About Us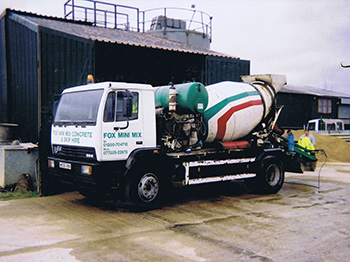 Origins
Ramthorne Concrete started as Fox's Mini Mix in Evenley, near Brackley by the late Nigel Fox. Jason Brownsell and Merrick Loggin took over and grew the business.
Ramthorne
By 2006 both Jason and Merrick were looking to pursue their other business interests and the Fox's Mini Mix business was bought by Stephen Hiatt and his partner Lucy.
The business was relocated to Hook Norton and renamed after the new premises, Ramthorne Farm.
We now run our trucks from Hook Norton and are able to fill at the Smiths Concrete plants in Banbury, Bicester, Cassington and Stratford upon Avon. We continue to serve the existing Fox's Mini Mix customers.
The future
We will continue to develop our service to meet the changing needs of our customers, transparent online pricing and 24 hour booking being the latest example of this.
We look to build our Company further by earning the trust of new customers and expanding to meet their needs.
"We've used Ramthorne for all of our concrete in the past few years and I cannot speak highly enough of Steve and his professional approach to running his business.
Our most recent site had very tight access and concrete deliveries were limited to narrow time slots due to it being located in a residential area. Steve's attitude, driving skills and punctuality made pouring difficult footings a doddle.
I cannot praise Ramthorne enough. They provided a personal, friendly and helpful service that we've never managed to get from the larger companies."
Matt Hardwick
Project manager
S and F Hood Ltd (Award winning developers)